Helios Cut 500 Bridge Saw
Francesca Catena
Telephone:
0039-0873 341584
Add to Basket
Product Description:
Helios Cut 500 is a fast and performing 5 interpolated axes bridge saw. It has been developed for high precision cutting processes on ceramics, quartzites, as well as marbles and granites. The exclusive characteristic is the stainless steel monolithic structure, which guarantees a total endurance against corrosion and a remarkable duration over the time. The bridge saw can have both manual and total automated functions thanks to the advanced levels of the software, which allow to process easily a lot of jobs such as multiple linear cuts, perpendicular linear cuts, mitering, cut of kitchen/bath tops, calibration, decorative walls, shaping, inclined cuts, net and clean cuts, roughing, scraping, fan-shaped stairs, template reading, and much more. The integrated Helios Run-touch 1.0 software is user-friendly and intuitive, it can be combined to Helios Photoscan, which is the slabs scanner, as well as measuring system and template reader. Together they can start the cutting process just a click away.
"With the camera, you take one picture and start immediately the cutting process...very easy, isn't it?"
LEARN MORE HERE:
http://www.heliosautomazioni.com/en/bridge-saw/cut500.php
http://www.heliosautomazioni.com/en/news/city-of-light.html
Don't hesitate to contact us for any further detail.
Feel free to book a demo at our plant, you will be our special guest!
Whatsapp call / mobile phone # +393485411551
Contact Details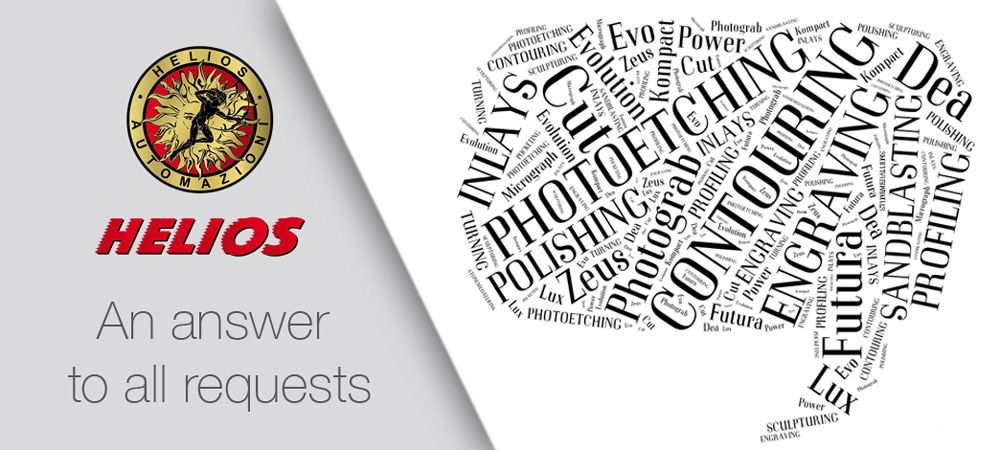 Francesca Catena
Telephone:

0039-0873 341584

Fax No:

0039-0873 545077

Mobile:

0039-3441482754

Company Address

Viale Francia, Zona Industriale - San Salvo (CH) Italy
Send a message to this supplier