Polishing Machine - bridge polishing machine
Francesca Catena
Telephone:
0039-0873 341584
Add to Basket
Product Description:
Helios Lux is the fastest and most efficient bridge polishing machine with an automatic tool change in the market. It is a sturdy machine, which preserves its quality over time (no rust), entirely built with stainless steel both in the structure and the fixing bolts. Thanks to the automatic tool changer it is possible to polish and brush all types of materials (granite, onyx, quartz, etc.) without the manual intervention and with excellent results. The working head, developed by our engineers, allows to have a constant pressure control and to work also on not perfectly flat surfaces, thus saving the 50% on the use of abrasives. Helios Lux can work on multiple slabs (also different for shape and thickness) over the working table during a unique polishing cycle without blocking the machine or interrupting the process. The integrated X-Touch software and the system Helios Photoscan for the slab scanning and measurement make a polishing cycle very easy, intuitive, and fast.
"With the Helios technology, our customers save 50% on the abrasives!"
LEARN MORE HERE:
http://www.heliosautomazioni.com/en/polishing-machines/lux.php
Schedule a demo with us, you will be our special guest!
Feel free to contact our sales manager Mr. Daniele Cordesco on +393485411551.
Contact Details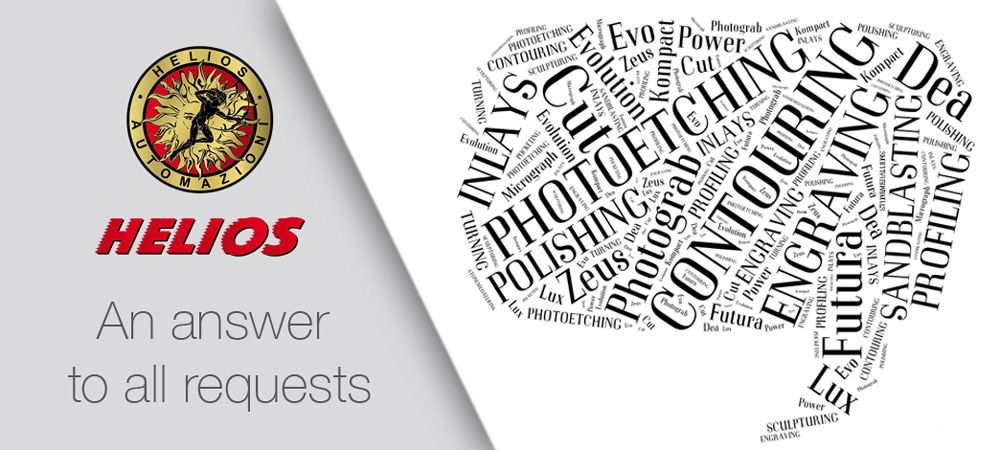 Francesca Catena
Telephone:

0039-0873 341584

Fax No:

0039-0873 545077

Mobile:

0039-

Company Address

Viale Francia, Zona Industriale - San Salvo (CH) Italy
Send a message to this supplier