Helios Seven
Francesca Catena
Telephone:
0039-0873 341584
Add to Basket
Product Description:
Helios Seven Total Station is a machining center of the latest generation, developed to answer the requests of the most demanding stone fabricators. The entire stainless steel structure has been conceived to pursue an unlimited durability over the time. The use of recirculating ball screws and zero backlash gears makes the machine's movement of the axes very fluid, thus guaranteeing a highly detailed finished product. Thanks to the use of high frequency inverter , which supplies only the necessary power for the mechanical efficiency, the maximum energy saving is ensured.
The Galaxy Stone Software manages the machining center Helios Seven and optimizes all the functions of the machine from the cut with the disk or with the tool to the edge polishing, writing, sculpturing, skene, inlays, shallow kerfs for the rodding technique, and much more. The Galaxy Stone software can manage the multiple interpolation of the axes, the tool change, the flatness control of the slabs, the template reading from the camera, and all the devices, which can equipped on Helios Seven without any other integrated software.
Helios Seven has been designed to satisfy several needs, that is why there are various customizations, which allow the partial or the total automation of the process. Helios Seven can be equipped with the 3 axes head with all its features, with the 5 axes head or with both heads in the version "Total station" for a total automated process. Moreover in case of partial setting up, it possible to add the other components over the time.
Feel free to contact us anytime.
Please consider a visit at our plant in Italy ... you will be our special guest!
find more here:
http://www.heliosautomazioni.com/en/double-head-cnc/seven.php
don't forget to like, share & thrive
https://www.facebook.com/heliosautomazionisrl/
Contact Details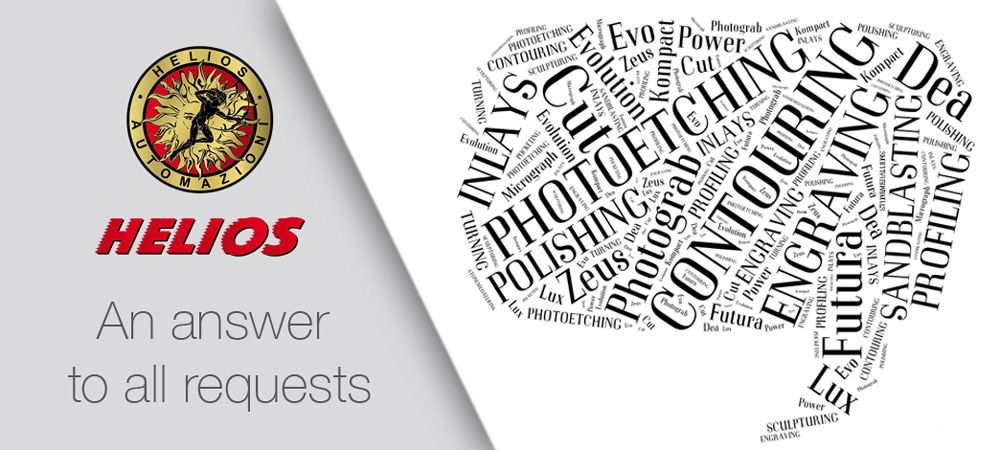 Francesca Catena
Telephone:

0039-0873 341584

Fax No:

0039-0873 545077

Mobile:

0039-3441482754

Company Address

Viale Francia, Zona Industriale - San Salvo (CH) Italy
Send a message to this supplier