Stone Machineries - Cnc Machines
Francesca Catena
Telephone:
0039-0873 341584
Add to Basket
Product Description:
The cutting-edge technology at the service of creativity

Helios Automazioni produces stone processing technologies, cnc machines and software. Research and development and innovation are the essence of its mission, that it is often joined together to the skilled experience of the Italian and international architects and designers. This relationship, unique in its kind, was born to explore the limits of the materials and to achieve something still undiscovered. The principal aim of the project, in its creative dimension, is the technical awareness.
Helios Automazioni offers this awareness starting from the certainty of the cnc machinings made by its products. Precision is the main element when processing complex works, both in the configuration of the shapes and in assembly work, both in the machining itself and in snap-fit details of different materials.
The research of a cutting-edge technology at the service of creativity fuses together to achieve new and future production forms, a technology at the service of the stone fabricators, messengers of the wise tradition, and of the designers representative of the creativity development.
learn more here:
http://www.heliosautomazioni.com/en/news/white-in-the-city.html
Don't hesitate to contact us for any further detail.
Feel free to book a demo at our plant, you will be our special guest!
Whatsapp call / mobile phone: +393485411551
Contact Details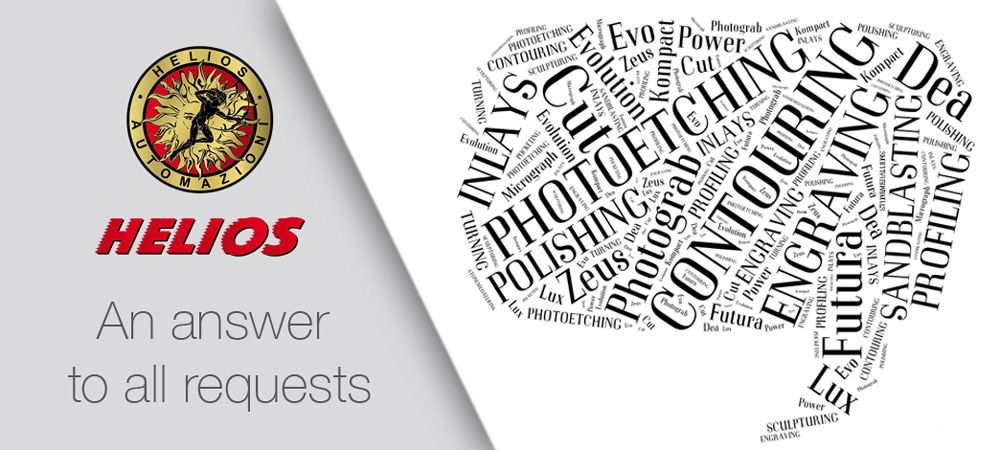 Francesca Catena
Telephone:

0039-0873 341584

Fax No:

0039-0873 545077

Mobile:

0039-3441482754

Company Address

Viale Francia, Zona Industriale - San Salvo (CH) Italy
Send a message to this supplier